19C Maison de Maître with independant converted barn set in 3.7 acres
For Sale in the South of France
This Maison de Maître (country mansion) was completed in 1851. South facing with a spectacular view of the Pyrenées the property is set in 1.5 hectares (3.7 acres). The Maison de Maître has 7 bedrooms (ensuite). The property is located on the southern edge of a rural hamlet (population 320) in the beautiful Haute Pyrenées region of South West France. It can sleep 11. It is surrounded by farmland and wooded hillsides. The grounds also command dramatic views to the Pyrenées. A stream borders the grounds. The property has been comprehensively restored, re-wired and re-plumbed.
Notable features include an elliptical wrought iron and oak elliptical staircase and decorative timber floors. Many rooms have a double aspect with multiple windows creating an exceptionally light living space.
The independant converted barn included in the sale has approximately 200m2 of habitable living space. It has been beutifully renovated maintaining original features and is currently very successfully let as a self-catering holiday home. There are three bedrooms, two shower rooms, a large sitting room, a luxury granite finished completely equipped kitchen dining room and a covered veranda with views of the Pyrenées.
A 12m x 6m swimming pool was added in 2007.
Skiing is nearby, the nearest market towns are Trie-sur-Baïse and Lannemezan. Tarbes is the nearest commercial town (30km) and Lourdes (45km) and Pau (55km) are very accessible. Pau airport 40 minutes, Toulouse airport 75 minutes.
Imposing 19th Century French house with beautiful façade.
Large marble tiled lounge and dining areas.
Imposing and elegant oak and wrought iron spiral staircase..
Original wooden parquet floors.
Large en-suite bedrooms
views of the snow capped peaks of the Pic-du-Midi mountain range.
Beautifully renovated including electrical and plumbing installations..
Sunny terrace overlooking landscaped park.
A 12m x 6m swimming pool built in 2007
For Further Information please email contact@castlesandmanorhouses.com
Ground floor
Two slate steps lead up to original double doors with a transom window in to the Entrance Hall.
Entrance Hall
The entrance hall has original plaster mouldings and marble floor. Along with the fine oak elliptical period staircase with decorative beading and elegant the entrance is a very elegant point of arrival.
From rear of stair, five steps up to back lobby with built-in cupboard.
Double period doors lead off the Hall to the Dining Room.
Dining room (5 .3 x 5m)
South facing with the mountain view. The dining room has a marble floor and a carved stone fireplace.
Kitchen (5.5x2.5m)
|The kitchen is north facing with a large window and glazed door which opens on to the terrace. It is fitted with high-grade units in blue and white with reconstituted marble worktops, stainless steel five-burner gas cooker with integrated extractor and recessed lighting are included in the sale.
Sitting room (5.2x5m)
The east facing living room has french windows opening on to the terrace. There are in addition two large south facing windows. The fireplace is ornate and elegant of carved grey marble and the floor is marble.
Study (5x2.5m)
The study is north east facing with a french window opening onto the terrace on the east and a large north facing window. An entire wall is fitted with cupboards and book shelves in beech.
Rear lobby, with built-in cupboards, door to kitchen and low door below stair to hall.
Utility room, with connections for laundry appliances & central heating unit.
Separate WC & basin.
First Floor
The oak staircase has decorative beading, iron spindles and rises the full height of the building.
First landing
This elegant landing has a large south facing window and double doors on each side leading to the yellow bedroom suite on the right and the blue bedroom suite on the right.
Bedroom 1 ( 5 .4 x 5.1)
Bedroom 1known as the yellow bedroom has plaster ceiling mouldings, a carved art deco fireplace, original timber ash panel floor and two large south facing windows .
Ensuite shower, with shower, pedestal basin and WC
Bedroom 2 (5 .4 x 5.1m)
Bedroom 2 is extremely light with four large windows, ceiling mouldings, a white marble fireplace and a remarkable elegant floor of oak and cherry herringbone with a centeal marquetry rose.
Ensuite shower, with shower cabinet, basin and WC.
Bedroom 3 ( 3.5 x 2.5m)
Bedroom three is at the back of the house over looking the north garden. It shares the bathroom with bedroom 2 by a connecting door.
Bedroom 4 ( 3.1 x 2.8m)
Bedroom four is at the back of the house over looking the north garden. It can be used as a double or a twin and enjoys proximity to the family bathroom on the landing.
Family bathroom (2x2.5m)
The family bathroom is also situated at the back of the house with a large central bath with great surrounds and high quality 1950's surround tiling in immaculate condition. There is a window, a shower cabinet, basin and WC.
Second floor
The elliptical staircase continues to the upper landing with picture dormer window with grand south view.
Bedroom 5 ( 7.8 x 5.4m)
Bedroom five is south facing with plaster ceiling mouldings, a carved art deco fireplace, original herringbone parquet flooring and south and east facing windows.
Ensuite shower, fully tiled, with walk-in glass-sided shower, pedestal basin and WC.
Bedroom 6 (7 x 5m)
Bedroom five is south facing with plaster ceiling mouldings, a carved art deco fireplace, original parquet flooring and southt facing windows.
Ensuite shower, fully tiled, with walk-in glass-sided shower, pedestal badin and WC.
Bedroom 7, 2.5 x 2.5m via a small door off rear of stair, with glazed door north to roof terrace, 3.5x2.5m, overlooking grounds with decorative balustrade.
Guest wing - converted barn
A converted and extended barn has been the subject of a professional restoration to provide separate high-grade accommodation.
approximately 200m²
Luxury granite finished kitchen
Large sitting room
Dining room
Bedroom 1: Double bed and single bed
Bedroom 2: Double bed
Bedroom 3: Double bed
2 x Shower rooms, each with a WC
Covered veranda on the top floor, to the south with views of the Pyrenées
Kitchen-dining, 7.2x6.7m, a spacious room with well appointed, fully equipped kitchen area with granite work tops and dining area.
Shower room (3.1x2.1) Stylish and spacious walk in shower with WC & connections for laundry appliances.
Stair to First floor with broad pine planks throughout.
Upper Sitting Room, 7.6x6.7m, a handsome room with exposed beams, woodburning stove and glazed doors.
... leading onto a covered balcony
Covered balcony, 8.4x7m, a South facing summer entertaining area.
Bedroom 1, 6.7x4.6m.
Bedroom 2, 2.7x2m.
Bedroom 3, 2.7x2m, a small twin.
Shower room, 2.7x1.9m. Within the same building :
Garage, 8.4X7m, with space for 3-4 cars ;
Workshop, Bike and garden stores.
Views of the Guest Wing:
Swimming Pool
Swimming pool, 12x6m, set in elevated paved terrace, built in 2007.
Land
1.3 hectares.
Driveway to parking spaces and garaging.
Main entrance gates between pair of plane trees lead to front door.
Sun terrace, 9x6m, accessed by french windows from living room and study on East.
A sweep of lawn extends to a wilder area with an enchanting brook winding across the full width of the property.
Feature trees include oak, ash, plane and limes with a group of evergreens and cedars and the boundaries are demarcated by hedges, fencing and some old stone walling. Garden entrance from side lane beside a line of nineoaks. Pigeonnier with a slate roof.
VIEWS
Location & Access
Located in the beautiful countryside of the Lannemezan Plateau to the East of Tarbes, the house lies in the heart of a region famed for its gastronomy (Pate de Fois Gras) and it's wine (Madiran).
Elevation 380 m = 1,200 ft above sea level
From the UK: 1 hour's flight to Pau, 1 hour 20 mins to Toulouse, 2 hours to Biarritz.
The A64 motorway links are good and traffic free compared to UK motorways.
It is also possible to fly into Carcassonne or Bergerac airports (2 hours 30 mins approx)
By rail there is a TGV (express train) to Lourdes, Tarbes and Toulouse.
SERVICES
De Dietruch oil fired central heating..
Several wood burning stoves
Gas from bottles for cooker
On the Electrical grid
Telephone services, + Wifi
Mains water
Septic tank for the house and a separate new septic tank for for the guest wing.

Tax foncieres (last year) €1,600
PRICE
The Price is 850 000 EUROS
For Further Information please contact Sophie McDonald
Furniture and equipment for sale by separate negotiation.
The Area
The house islocated in the Hautes-Pyrénées département within the Midi-Pyrénées région of Souther France. It is part of the area historically known as Gascony.
Gascony is currently divided between the Aquitaine région (départements of Landes, Pyrénées-Atlantiques, south and west of Gironde, and south of Lot-et-Garonne) and the Midi-Pyrénées région (départements of Gers, Hautes-Pyrénées, southwest of Tarn-et-Garonne, and west of Haute-Garonne).
Gascony was historically inhabited by Basque-related people.. From medieval times until the nineteenth century, the Gascon language was spoken, which is a regional variant of the Occitan Language.
Gascony is the land of d'Artagnan, who inspired Alexandre Dumas's character in The Three Musketeers. It is also home to the hero of the play Cyrano de Bergerac.
Gascony is famed for its douceur de vivre ("sweetness of life"): its food (it is home to foie gras and Armagnac brandy), its medieval towns and villages, locally called bastides, nested amid green rolling hills, its sunny weather, the beauty of its landscape, with views of the Pyrenees mountain range, all of which contribute to the popularity of Gascony as a tourist destination.
Gascony is one of the least populated areas of western Europe.
PHOTO GALLERY
Nearby
Biarritz (2 hours) for the magnificent coastline, casino and surfers on Atlantic rollers.
Auch very pretty, old town.
Lourdes (45 minutes) for the cure, the Basilica, and its castle which houses a museum dedicated all things culturally Pyrenean.
Marciac (40 minutes) has a huge round the clock jazz jamboree for two weeks in August which draws in Jazz giants and big crowds. Side streets are lined with restaurants and stalls selling craft-work. Great buzz.
Mirande (25 minutes) has country'n'western music 2 weeks in July.
Pau (1 hour) for shopping, sight-seeing, its English connections.
Carcassonne spectacular and popular tourist attraction. A medieval double walled, turreted hill top fortification containing some good restaurants cafes and craft-shops.
Toulouse (1 hour 20 minutes) France's third city, and once the capital of an independant state. A must see historical centre, with university culture and connections to Concorde, Airbus and the Ariane space programme.
Spain (1 hour) for tapas, hammon and Rioja.
Skiing
Eleven of the best French Pyrénées skiing and winter sports resorts are less than one hour from the house.
Cycling (Road & MTB)
The Hautes Pyrenees département of France has a superb network of minor roads and minimal traffic outside the towns and off the major routes. The range of landscapes is immense from leafy and domestic to glacier topped high mountains. Local routes are rural, and will not only offer you rides from easy to strenuous but will also introduce you to some of the immense variety of the areas landscape and it's people.
Col Du Tourmalet: Possibly one of the most famous climbs in all of France the Col Du Tourmalet is the highest of the French Pyrenean road cols and features frequently on the route of the Tour de France. The road over the Col du Tourmalet presents two very distinct aspects, the Eastern approach with it's early wooded sections and it's spectacular open views and the Western side which is much wilder, with deep rocky ravines and reputedly the fastest descent in the whole of France.
Col d'Aspin: Local knowledge means that instead of you taking the main route to the top of this most famous of climbs we will direct you via the Hourquette d'Ancizan. One of the lesser known central Pyrenean cols, it is a little higher than the Aspin and combines a whole variety of aspects. Climbing the side of a glacial valley through mixed forest the road emerges to extensive views backwards towards the peaks on the Spanish border. The descent is through broad meadows and the shade of Beechwood with the clamour of cowbells ringing in your ears.
Cirque de Gavernie: A glacial valley with the lower part having a moderate gradient and set in verdant fields separated by curtains of Poplars. As you get closer to the village of Gavernie the pitch becomes a little steeper with waterfalls cascading down into the Gave de Gavernie on either side of the road. A short walk will bring you to the awe inspiring site of the Cirque de Gavernie, a sheer wall of rock rears up to 3248m in front of you and melt waters tumble from the steep cliffs, an unforgettable sight.
Other less strenuous rides across rolling pastureland can be accessed from the house by setting off in any direction other than south.
To the South the Pyrenees is truly a road cyclist dream, offering low level rides through sleepy traditional villages on almost traffic free roads and climbs winding their way up mountain sides, to Tour de France cols giving you never-ending spectacular mountain scenery.
Walking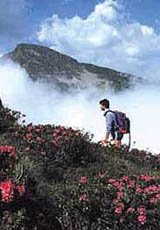 The stunning mountain scenery of the French Pyrenees can be accessed easily from the house, with the highlights being glacial lakes and waterfalls, peaks and high ridges and many varied flowers and wildlife with some extremely pretty villages known as 'bastides' nestled amongst the mountains. Several of the most beautiful walks are found within the Parc National des Pyrenees and these include:
Cirque of Gavarnie and the nearby crater Cirque de Troumouse is a world heritage site with a spectacular 1,000 ft waterfall, which is a visual feast.
Lac du Gaube is an exceptionally blue lake with an amazing mountain backdrop.
Pont d'Espagne and the Marcadau Valley is a large pine valley filled with some superb mountain views across to Spain.
Ossau Valley is one of the more beautiful Pyrenean valleys near the Cirque of Gavarnie.
Grottes de Betharram caves are full of interesting water formed rock formations.
Lourdes is an internationally famous pilgrimage destination for Christians who wish to visit the Grotto of Massabielle.
Fishing
Pyrenean fishing is diverse, ranging from small mountain streams to fast-flowing rivers to high altitude lakes accessible only by foot. Some of the lakes and rivers are stocked, but those higher up contain mainly wild, brown trout. Fishing is popular among local inhabitants but has not yet become a tourist industry
There are numerous privately run "parcours de pÍche" where the uninitiated can rent equipment and cook and eat their catch at the picnic areas provided.
Running
The quiet roads and forest tracks around the house offer a peaceful training ground for anyone looking for an easy morning jog, a hilly interval session or a long training run. Whether you are a roadie or a fell runner, we are able to provide maps to some of the best and quietest running you will have ever experienced.
Wildlife
The variety of birds is exceptional, including red kites, buzzards, green woodpeckers, jays, hoopoes, kingfishers, hen harriers, and occasionally eagles and golden orioles.
Golf:
There are several good clubs within an hour's drive. The ability to be able to play virtually all year is one of the many diversions the area offers. Courses at Lannemezan, Tillac and Lourdes.
Other local activites include white water rafting, bathing in water spas in 2 Spa towns, paragliding, hang gliding, tasting wines and spirits, tennis. Through-out the Summer there are plenty of village fetes all around. Rugby is also popular in this area.